Cyberphobe releases his first album, and the Phallus album is made available online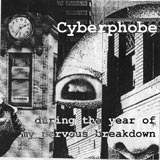 The promised first Cyberphobe album has been released on the web. "during the year of my nervous breakdown" is music about a society turning away from meaning.
The Phallus album, "deepthroated", has been put on the postmoderncore catalogue and made available for download. Recorded from a live to air on Radio Massey five years ago, this Palmerston North trash/spazz rock album was originally released on Lizardmull Records, Palmerston's own legendary swamp label... we still have copies...