Opening of 91 Aro St, and the Aro Arts website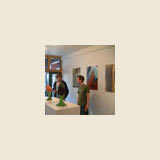 91 Aro St is a space to provide an outlet for independent arts of any sort we can in Wellington, New Zealand. 91 Aro St currently has comics, tapes, CDs, books, films, paintings, photographs, pictures and glass work. It looks to promote, distribute and encourage all kinds of independent art.
There was a benefit sale last weekend. On Monday the 1st of November, 91 Aro St's first exhibition is opening. The exhibition is "headbones" with art by Trish Stephens, Smiley, and Sam Stephens. The opening will be between 5 and 7 pm. Afterwards the shop will be open for business Tuesday to Sunday, 10am to 6pm.
All postmoderncore releases can be bought from 91 Aro St. We can sell them from there for NZ$10, due to no shipping costs. Thanks a million to Dean Brown for his help in preparing the covers for the CDs to sell from the shop.
Update: aroarts.org.nz is no longer online, as the shop is closed. You can see the old site here