Unknown Rockstar to perform at nomusics net festival Arena II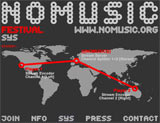 The Unknown Rockstar has been invited to perform at Arena II, on the 12th of October. The Unknown Rockstar performs at 12PM Seoul time (GMT+9), 3PM New Zealand time (GMT+12), or check the Arena II playlist to find the time in your timezone. Tune in at the nomusic website, http://nomusic.org/.
Arena II is a 24 hour festival which goes from 0:00-23:59 GMT+0 on the 12th of October, with one performer each hour. It is organised by nomusic. It looks to be a good festival. The names I recognise on the playlist are Tapegerm Collective and Janek Schaefer. I'm sure the others will be well worth checking out also.