Release of "Bends and Moans", recorded live in Japan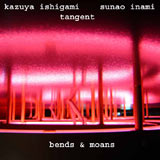 Bends and Moans was recorded live at C.U.E. in Kobe, Japan. The performance took place on the 25th of November, 2005. The performers were 石上和也 (Kazuya Ishigami), 稲見 淳 (Sunao Inami) and Tangent.
Note that Tangent is not playing tomorrow at the Photospace.