Deep Earplug Music 2/Shake the Foundations 4 - 16th Feb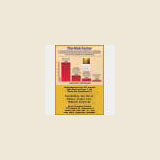 Deep Earplug Music 2/Shake the Foundations 4
Friday 16th February, 8pm. Koha entry (earplugs included)
Aaron Laurence Gallery, 326 Lambton Qy (downstairs)
Postmoderncore and the Aaron Laurence Gallery bring you Deep Earplug Music 2 and Shake the Foundations 4. The Deep Earplug Music series brings you sonic investigations for often uncatered to palettes. Shake the Foundations is a series of gigs bringing you the unusual and expansive acoustics of the vault space of Aaron Laurence Gallery.
Birchville Cat Motel, one of New Zealands underground treasures, will delight or perplex with his brutal but subtle explorations of the nature of sonic experience. Public Toilet Ltd. never fails to surprise and entertain with his unusual take on music and performance. The Unknown Rockstar will continue his obsession with the sound of vibrating strings.
Come down, enjoy the sound of the unique space and artists and check out the artworks. Don't forgot to plug up those ears, for your own safety.