15 Points at the Engine Room, 22nd May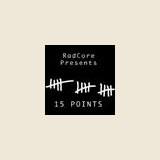 Unknown Rockstar is playing for a night of video art at the Engine Room.
From their press release: An exhibition for one night only at The Engine Room Gallery, Massey University. It will be an extravaganza of Multimedia, Installation and Performance art. Curated by RadCore, a collective of 3rd and 4th year Fine Arts students, and featuring artist's such as Brendon Philip, Erin Templeton, Aliki Boufis, Dirtroom Tomographic, Chris Cudby, William Hsu, Dave King and Trimasterbate.
Should be pretty damn cool. Hopefully I'll see you there.