Rory Storm & Mono-Polly, Unknown Rockstar, Little Skull play a CD release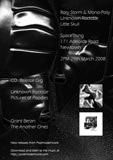 Rory Storm & Mono-Polly
Unknown Rockstar
Little Skull
Playing at
SpaceThing
171 Adelaide Rd, Newtown
2PM, the 29th of March
Celebrating the release of two new CDs: "The Another Ones" by Grant Beran and "Pictures of Poodles" by the Unknown Rockstar
Rory Storm and Mono-Polly have been working together since they both lived in Dunedin, playing as part of Rory Storm and the Invaders, and in other line ups. They are both interested in complementary strains of guitar use and abuse.
The Unknown Rockstar intends to play prepared guitar, clarinet and toys. He intends to have fun.
Little Skull is yet another NZ artist better known overseas than here. His limited edition seven inches generally sell like hotcakes, and the his recently released CDR compilation of these seven inches sold out within hours. I have no idea what he plans to do, but I'm excited about it anyhow.
Grant Beran's debut album, "The Another Ones", lives in a grainy scratchy world of vinyl and CD manipulation all of it's own.
The Unknown Rockstar's fifth album, "Pictures of Poodles" is an exploration further in the realms of echo and drone.
SpaceThing is a volunteer run shop open on Saturdays and Sundays, selling music, literature, art, and other objects of interest.