Zombie Prom Queen @ Stinkfest on Youtube and Stinkfest article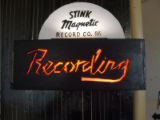 A video of Zombie Prom Queen playing at Stinkfest has been posted to Youtube. monkeightraynor's channel includes videos of most or all of the Stinkfest performances.
Also Venetic has posted an article about Stinkfest. There's no real coverage of Zombie Prom Queen, but the article is still worth reading.