Zombie Prom IV on the 22nd at the Watusi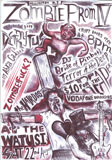 ZOMBIE PROM IV
Saturday August 22nd, doors open 8pm, Watusi Bar
Featuring the music of...
Detrytus
There is a contest The prize is immortality. To win the contest all you have to do is KILL! A demon with the ability to resurrect and control the dead enters the contest. There will be HELL to pay!
Zombie! Fuck?
Una bestia inmunda esta a punto de despertar...
The Hairdos
MAKE-OUT with VIOLENCE is a boy trying to fulfill his unrequited love for a girl who has risen from the dead.
Vodafone Warriors
Corporate communications a tough game--it doesn't end until all the members on the opposing team are dead.
Terror of the Deep
the horror of party beach! Weird! Horrifying! Fantastic!
and from the crypt of ghoulishly good tunes Djs Abra Cadaver and S-Kerry Ann Lee dare you to remain seated when monsters invade audience! who'll chicken out first--boils or ghouls? Ghouls! learn if your boy fiend can take it! Enchanted by there voodoo stylus you will NOT leave the dance floor alive!!!
Dress in your filthiest gag rags! WIN! Zombie Queen & Zombie King!
mwahahaha
ZOMBIE PROM IV tickets are available now!!!
heres how to guarantee yr $10 grave....
get yr ticket over the bar at Watusi
or
talk (at yr own risk) to one of the early z infected (Helena, Menno, Beth, Emma, Brendan, Kerry)