Smokers play NZPRnR soc AGP, 27 March 2010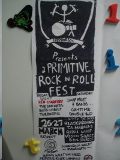 Primitive Rock'n'Roll festival at the Pohangina Valley, 26th-28th March
Back by Popular demand........
Now 2 Nights.......
At Mai Farm down by the river under the cliffs......
performances by Red Country, The Smokers, Boss Christ and Flamin' Burns Bros, TurboStill, Gaytime, Double ya d, Black Pudding T.A. Maracas, Royal Wolf, Voodoo Savage and his Savages, Plus folks playin' records.....
There will be a swap meet of sorts/merch tent........
Bring everything you require for a primitive river campout!!!!!!!!!!
Donations to cover hireages and possibly bands petrol greatly appreciated!!!!!!!!
Be there if you like your times... good.