Unknown Rockstar plays PhotoChop Vol. 3 opening, 16th of January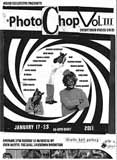 A collective exhibition of collage images from print using photo chop, scissors and glue. Following the blazing paper trail left by PhotoChop (2007) & PhotoChop II (2009) the exhibition salutes the dawn of photo lithography, the 120 years old tradition of processing images for the mass print medium... give the new images a montage of new meaning.
Everything under one hundred dollars.
Opening on Sunday 16th starting 3pm with music from Dick Whyte, The Doll, Unknown Rockstar. BBQ possible depending on the weather. BYO, some nibbles and drinks provided.
Opening hours Monday 17th to Sunday 23rd 10am-6pm.
Artists include: Markus McIntyre; Dick Whyte; Robyn Kenealy; Menn-O-Matic; Sam Stephens; Will Frew; Claire Harris; Rob Groat; Denise Durkin; Ruby Nekk; BND; Curtis Nixon; Stefano Tevaga; Alison Jones; Di Dixon; Emma Goodall; Re-bound Books.