Unknown Rockstar play The Now Now, Sydney, 18th of June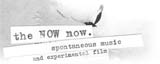 401 Hibernian House, the 18th June, 8pm
Unknown Rockstar playing in Sydney, shortly before departure...
yep, the time is approaching for the 4th NOW now series event of 2012, this time at 401 Hibernian House.
ft:
Vijay Thillaimuthu (melb) - AV synthesis
Unknown Rockstar (NZ) - blues guitar
Whale+Cheng - electronics+voices
doors 7:30, start 8 $10/$8. byo
Hibernian House is at 342 Elizabeth Street Surry Hills, Sydney. There's a Facebook event.