Unknown Rockstar plays PhotoChop exhibition opening, Bluebird Microcreamery, Seattle, 12th December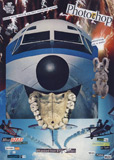 PhotoChop exhibition opening, Bluebird Microcreamery the 12th of December, 7pm-10pm Pacific Time
A collective exhibition of collage images from print using photo chop, scissors, and glue. The exhibition salutes the dawn of photo lithography, the 120 year old tradition of processing images for the mass print medium... and giving the recycled images a montage of new meaning. Featuring over 20 artists.
Everything $5 - $100
Opening Thursday December 12 @ 7pm
feat improv piano by The Unknown Rockstar, Wild Bill & improv sax by James McLallan
Bluebird Microcreamery is at 1205 E Pike St #1A Seattle, WA 98122. There's a Facebook event.