Hollow Earth Radio Surrealistic Song Project 2013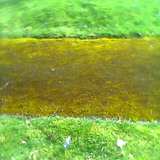 Hollow Earth Radio's Surrealist Song Project is a method by which a collection of four recorded musical tracks are assembled to make one song. Participants have a chance to make up a portion of a song on the spot, in a similar way to writing an "Exquisite Corpse Poem."
To do this, we use a recording setup with various instrument options. Once an instrument is chosen, participants strap on headphones and begin recording their own track, with the rule that they can only listen to one of the previously recorded tracks. After four tracks are recorded, they are combined together to make a song. Postmoderncore organized the recording equipment, facilitating the recording, and mixed down the tracks.
These tracks were recorded at the 6th Annual DIY Holiday Fair - A Benefit for Hollow Earth Radio & The Vera Project on December 14, 2013.