Leila Adu (NY) / somesurprises / Kate Olson / Unknown Rockstar at Hollow Earth Radio, Seattle, 1st September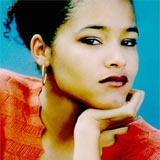 8pm Pacific Time
Leila Adu travels the spaceways of music without limits. From tours of the US, Europe, Australia, New Zealand and the Far East, London's Time Out says, 'Avante-garde pop that recalls Nina Simone and Tim Buckley," and Italy's popular music mag Blow Up describes her last album Ode to the Unknown Factory Worker as "splinters of folk and blues but also hypnotic and ghostly prog." Steve Albini who produced her second album dubbed her "Spooky Adu."
Leila was awarded a doctoral fellowship in composition at Princeton in 2011 — the same year she was voted MTV Iggy's artist of the week.
Leila's unreleased fifth album and new live set take a new direction into Avantronica, replacing her acoustic sound for layers of, both live and pre-recorded, organ and vintage synth mixed with Ableton Live music software. The live set is a duo of Leila's vocals, synth and piano with New York based Italian drummer, Federico Ughi who divides his time between New York and international tours with legends such as Daniel Carter, William Parker and spends time playing with Ornette Coleman and her latest recordings with kiwi beatmaker/drummer, Riki Gooch.
http://www.leilaadu.com/ http://leilaadu.bandcamp.com/
Listen to: Kate Olson; somesurprises; Unknown Rockstar.
Hollow Earth Radio is at 2018 E Union St, Seattle, WA 98122. There's a Facebook event.