pink void/dead air fresheners/the colour out of space/unknown rockstar at The Living Ro-Om Culture, Seattle, 26th May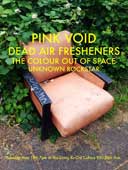 Doors at 7pm Pacific Time
"experimental music
a genre of music that is
very obscure and
composed of various noises and sounds.
usually played
by a collective of
people.
this experimental music sounds like
someone
locked a vivacious pack of spirits
in a
modern art museum with
bells
glass
jars."
by GodsDaughter May 07, 2006
a night of deep experimental music and art of making sound in the Living Ro-Om, featuring:
doors at 7pm
cost $5
ALL AGES
The Living Ro-Om Culture. 930 26th Ave, Seattle, Washington 98122. There's a Facebook event.