Album release gig for Dead Air Fresheners (USA) and Tangent, w/ The Biscuits at Audio Foundation, Auckland, 20th of March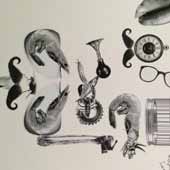 2pm New Zealand Time/6pm Pacific Time
Postmoderncore in conjunction with Audio Foundation welcomes you to an double album release at the Audio Foundation in Auckland, New Zealand, and broadcast to the internet. Albums by Dead Air Fresheners and Tangent will be released online on Postmoderncore.
The Dead Air Fresheners will be playing live in their garage studio in Portland and be simulcast at the Audio Foundation. Tangent and The Biscuits will be playing live at the Audio Foundation. The gig will also be being broadcast live to the internet via Periscope; we'll post live video links as the event proceeds.
The Dead Air Fresheners are weirdo underground legends of the US Pacific North West. Their bizarre stage presence, costumes and instrumentation, and their thoroughly bent and unusual musicality made them one of my favorite bands I saw in my time in the area. The chance to see them play live is not to be missed. The incarnation that recorded the album and that are playing the gig include a two year old and an eight year old - the gig has been carefully scheduled before bedtime in Portland. Watch them on Youtube.
Tangent has an interest in chance operations, sampling, field recording, and sound that floats at the edge of recognisability. This gig is a rare live set.
Dough based band The Biscuits close out the afternoon. They share their catchy racket with us; noise rock and good times.
The Dead Air Fresheners will be on first at 3pm New Zealand time/7pm Pacific time sharp. The kiddies playing with the band have an early bed time so the gig will definitely start at this time. So don't be late.
Entry by donation
ALL AGES
Audio Foundation is at Parisian Ties And Belts Sub-Basement/4 Poynton Terrace, Auckland 1010. There's a Facebook event.