Nowhere! Festival feat. Unknown Tofu at Audio Foundation, Auckland, 6th of November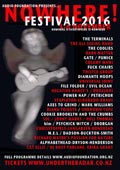 4pm
For those still standing, Nowhere! wraps up as it started – with gratuitous excellence:
PHIL DADSON / PAUL SMITH / PAUL BUCKTON / RUI INABA
him
DRORGAN
UNKOWN TOFU
AXES TO GRIND
DIANA TRIBUTE
PSYCHICK WITCH

day 4. Please see www.audiofoundation.org.nz/festival/nowhere-festival for all the info!

$10 on the door // no presales. Festival pass available from http://www.undertheradar.co.nz/ticket/6014/NOWHERE-FESTIVAL.utr
ALL AGES

Audio Foundation is at Parisian Ties And Belts Sub-Basement/4 Poynton Terrace, Auckland 1010. There's a Facebook event.