MOD/ The Doll/ Unknown Rockstar/ Rings Around the Moon/ LoMax at Snails, Palmerston North, 18th of July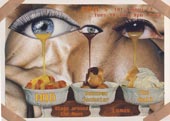 8pm
A rare gig in Palmerston North by Unknown Rockstar, with The Doll and other friends.
MOD - Shut up and drone
The Doll - "The Doll can be constituted by mixing 3 parts experiment, 4 parts noise, 1 part ritual, and 2 parts theatre, with a pinch of space dust." - Alt Music. "Using the crudest techniques imaginable, [The Doll] collages tapes of various known songs with the sounds of urination, faux-bells and various other crap, creating a truly messy mélange. Punker than you? Why, yes it is!" - Size Matters.
Unknown Rockstar - Minimal psychedelic stasis keyboard
Rings Around the Moon
Free entry
ALL AGES
101 Taonui St, Palmerston North, 4410. There's a Facebook event.