Mette Rasmussen (Denmark) with guests including Tangent at Audio Foundation, 8th of September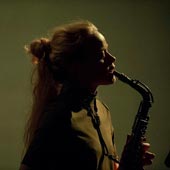 8pm
Danish saxophonist Mette Rasmussen is a vital exponent of a new wave of extreme instrumental improvisers. From crackling fire spitting shards to delicate wisps of hazy light - her music is razor sharp, volatile and deeply textured.
Rasmussen works on exploring the natural rawness of her instrument - experimenting on what the saxophone is capable of in sound and expression, with and without preparations. Currently resident in Norway she is much in demand, and has performed with such avant legends as Alan Silva, Chris Corsano, Mats Gustafsson, Paul Lovens, Paul Lytton and with her Trio Riot group with Sam Andreae and David Meier.
Visiting Aotearoa for the first time, Mette Rasmussen plays solo and in collaboration with local musicians in Auckland and Wellington.
Tangent will playing with Mette and The Snouts, using improvised cut up.
Mette Rasmussen - solo
Joel Vinsen/Darren Hannah duo
Mette Rasmussen with Snouts + Tangent
$10 presales $15 on the door. ALL AGES. Tickets from http://www.undertheradar.co.nz/tour/7698/Mette-Rasmussen-Denmark.utr
Audio Foundation is at Parisian Ties And Belts Sub-Basement/4 Poynton Terrace, Auckland 1010. There's a Facebook event.