Dead Air Fresheners to release new album on Postmoderncore at Nofest Superstructure Stage, 15th of September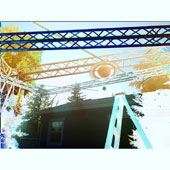 Please join the Dead Air Fresheners on Saturday 15th September at 3.00pm PDT at the Nofest Superstructure Stage. They'll be releasing their new album on Postmoderncore, Evidence of Superstructures II, performing the piece live, and have a few hard copy CDRs of the album available at the show.
Also playing are Four Dimensional Nightmare and Xapchyk.
Nofest Superstructure Stage is at Green Anchors, 8940 N Bradford St, Portland, Oregon 97203. There's a Facebook event.