Release of "Explorations of Space and Sound" by Unknown Tofu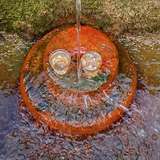 Unknown Tofu have released a new album, "Explorations of Space and Sound", for their performance today with DK at Skronkdance #6.
The recordings were made in 2015 - 16 in Washington DC, Forth Worth and Auckland. You can feel the spaces of a three-story concrete stairwell, an echo chamber on a busy street, a concrete bunker room, and 'Vortex', Richard Serra's 67 foot high weathering steel sculpture. You can hear the sounds of mixing bowls, water, tin cans, clapping, footsteps, dental impressions, dental floss, a partial denture, a hand-carved wooden knife, a metal water bottle, a screw driver, an umbrella, piano, chairs, a bird whistle, keys, a slide whistle, a glass sugar bowl, a recorder, tin whistles, traditional Korean bells, a whisk, & Doris (pvc pipe with elastic and bottle caps).