Release of "spooky mallet Resonance Knifespoon"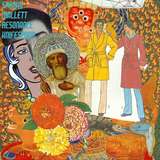 Postmoderncore is proud to release the second volume of the Dada Songwriting Compilation, spooky mallet Resonance Knifespoon. Many thanks to Corporal Tofulung for mixing and producing the album.
As with Volume 1 of the Dada Songwriting project, Rejection dryrot ripple Gombage, each contributor created two mins of raw sound - a single track recorded live with no post-processing. After each set of four submissions arrived, they were blindly put together to create a track - as and when they arrived in Corporal Tofulung's inbox.