Review of Dogpark's "displacement - belonging"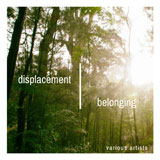 Yeah I Know It Sucks has posted a great review of displacement - belonging. It includes this review of Unknown Rockstar's contribution:
Unknown Rockstar hooks up with the drone-like warmth of the precious two works, surprisingly hooking onto it so well that it feels as if these artists connected somehow, as if they are relatives, family or perhaps music making aliens that have come from a similar root. The work here 'temporary accommodation' is severely warm and beautiful, a place that might be temporarily but feels as if we could hang in there forever.