Release of "Hand Dryer Solos" by The Doll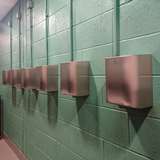 We're excited to released an album by The Doll. The Doll has been making no-fi sounds since 2004. She likes to augment her vocals with contact mics, balloons, magnetic tape, percussion junk, garbage from the side of the road, horns, household appliances, a T-Pain mic, & field recordings. She enjoys Cool Edit Pro on an XP craptop.
The Doll spent a year exploring the inner noiselife of the hand dryers and air blades that dwell in castles, cathedrals, pubs, venues, museums etc. Hand Dryer Solos is made from a selection of live recordings performed in public bathrooms for unsuspecting members of the No Audience Overground.
Recorded on a phone in the toilets of Wales and England, with a splash of Spain, Portugal & Romania for good measure.