Release of "Delerium" by Tangent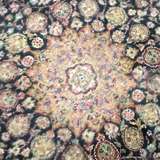 A new album by Tangent, Delerium. Improvised Plunderphonics. Loops, phrases, and rhythms lurch in and out of focus around each other. As sounds and moods progress, surprises and magic happen. I've never heard anything else that sounds quite like this.
Each of these pieces is constructed of two overlaid tracks of real-time improvised cut up. They have the kind of floating pulse the best of free jazz has, without having a fixed tempo; rhythm is important to these pieces. The sounds of the source material can be clearly heard, but what emerges is surprising and strange.