Release of "The Unknown Rockstar" by Toxic Chicken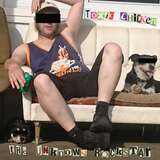 It's lovely to have this release from Toxic Chicken for Netlabel Day.
A picture of the Unknown Rockstar drinking beer inspired Toxic Chicken to create The Unknown Rockstar, an album of sometimes fun and sometimes quite beautiful electronic music. Funky; a good time.
Toxic Chicken is the long running project of one Kai Nobuko. Toxic Chicken uses a craptop to create idiosyncratic, humorous and enchanting electronic music. Absurdist, experimental, but accessible.